Method: Enzymatic recycling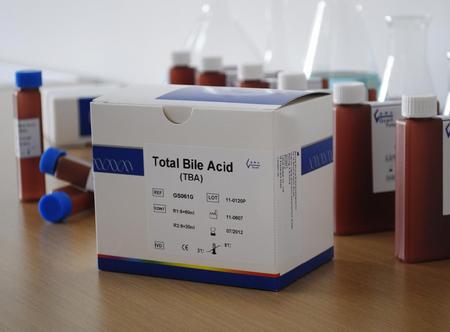 INTENDED USE
For the in vitro quantitative determination of Bile Acid in serum and plasma.
CLINICAL SIGNIFICANCE
The assay kit is for determination of serum total bile acids (TBA). Total bile acids are metabolized in the liver and hence serve as a marker for normal liver function. Serum total bile acids are increased in patients with acute hepatitis, chronic hepatitis, liver sclerosis and liver cancer.
ASSAY PRINCIPLE
The reagents of the assay kit are stable liquid formulation that allows ease of use coupled with enhanced performance characteristics. In the presence of Thio-NAD, the enzyme 3-α-hydroxysteroid dehydrogenase (3α-HSD) converts bile acids to 3-keto steroids and Thio-NADH. The reaction is reversible and 3α-HSD can convert 3-keto steroids and Thio-NADH to bile acids and Thio-NAD. In the presence of excess NADH, the enzyme cycling occurs efficiently and the rate of formation of
Thio-NADH is determined by measuring specific change of absorbance at 405nm.
LINEARITY
The method is linear between TBA concentrations of 22 -200 μmol/L. Sample above this concentration should be diluted with 0.9% NaCl and reassay. Multiply the result by dilution factor.
INTERFERENCE
The following analytes were tested up to the levels indicated and found not to interfere:
Hemoglobin: 500 mg/dl
Intralipid: 2000 mg/dl
Direct bilirubin: 50 mg/dl
Ascorbic Acid: 10 mg/dl
PRECISION
The CV of the test should be less than 5%.