Method: Enzymatic Colorimetric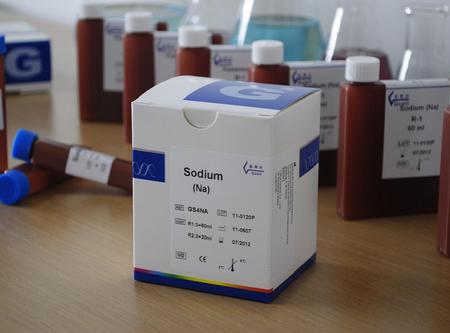 INTENDED USE
For the in vitro quantitative determination of Sodium inserum and plasma.
ASSAY PRINCIPLE
Sodium is determined enzymatically via sodium dependent β-galactosidase activity with ONPG as substrate. The absorbance at 405 nm of the product
O-nitrophenyl is proportional to the sodium concentration.
LINEARITYThis method is linear between sodium concentrations of 70 and 195 mmol/L.
INTERFERENCE
The following analytes were tested up to the levels indicated and found not to interfere:
Introlipid ≤ 1000 mg/dl, Bilirubin ≤ 50 mg/dl, Hemoglobin ≤ 500 mg/dl, Vc ≤ 50 mg/dl, K+ ≤10 mM, Ca2+ ≤ 8 mM, Fe3+ ≤ 200 μM, Mg2+ ≤ 5 mM, Cu2+ ≤ 60 μM, Zn2+ ≤ 80 μM.
SENSITIVITY
The minimum detectable concentration of sodium with an acceptable lever of precision was determined as 15.08 mmol/L.
PRECISION
The CV of the test should be CV < 5%.