Method: Enzymatic Colorimetric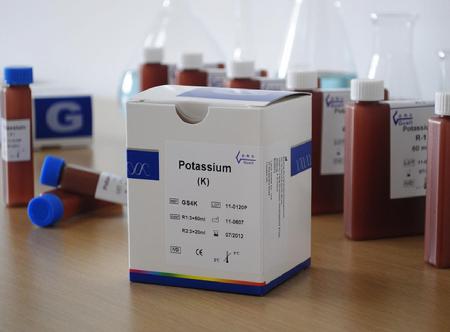 INTENDED USE
For the in vitro quantitative determination of potassium in serum and plasma.
ASSAY PRINCIPLE
Potassium is determined enzymatically via potassium-dependant pyruvate kinase activity using phosphoenolpyruvate as substrate. The pyruvate formed reacts with NADH in the presence of LDH to form Lactate and NAD. The corresponding decrease in absorbance at 340nm is proportional to the potassium concentration.
LINEARITY
This method is linear between potassium concentrations of 2 and 10 mmol/L.
INTERFERENCE
The following analytes were tested up to the levels indicated and found not to interfere:
Introlipid≤1000mg/dl, Bilirubin≤30mg/dl, Hemoglobin≤100mg/dl, VC≤40mg/dl, NH4+≤1mM, Ca2+≤10mM, Fe3+≤200μM, Mg2+≤10mM, Cu2+≤100μM, Zn2+≤100μM
PRECISION
The CV of the test should be less than 5%.